Keke Palmer gets shamed by her baby daddy due to the choice of dress worn to Usher's concert.
Darius Jackson shamed the American star for wearing a tight dress to Usher's Las Vegas residency show.
"It's the outfit tho.. you a mom," he tweeted on Wednesday alongside a viral video of the "Nope" star being serenaded by the R&B crooner with a version of his hit "There Goes My Baby."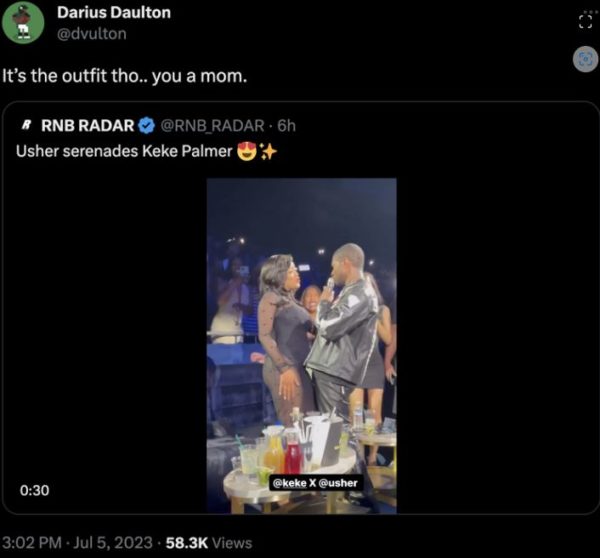 "We live in a generation where a man of the family doesn't want the wife & mother to his kids to showcase booty cheeks to please others & he gets told how much of a hater he is. This is my family & my representation. I have standards & morals to what I believe. I rest my case," he further tweeted.
Darius tweets landed him in hot water has social media users dragged him, while defending Keke.
See reactions below:
Like I know you ain't on Keke Palmer's phone plan on Keke Palmer's wifi in Keke Palmer's home watching Keke Palmer's son telling Keke Palmer what Keke Palmer should be wearing as a mother.. BABY, THIS IS KEKE PALMER! pic.twitter.com/01Oij4CLTl

— Ichigo Niggasake (@SomaKazima) July 6, 2023
Keke take that baby and get on!!! pic.twitter.com/6NUc1kRdi2

— CimónAlisa🕯 (@thecimonalisa) July 6, 2023
First Halle Bailey and DDG and now Keke Palmer and Darius. I am so sick of these loser men always embarrassing my sisters like this. They will crumble. pic.twitter.com/sorKzv5Tg5

— yup. | India & Corey emmy nominated (@brvttie) July 5, 2023
Black Twitter collectively coming together to drag Keke Palmer bd Darius pic.twitter.com/gg9cKTOivS

— SaniLaRenaⓋ🇭🇹 (@Sanilotus) July 6, 2023
keke palmer baby daddy when he hear an usher song on the radio pic.twitter.com/5z9NzJdS3f

— real snoozer (@DijahSB) July 5, 2023
What's so disheartening to me is that Keke was JUST on her show saying that if her man did something questionable she would address it in private. He ran to the internet as soon as he got in his feelings about something, one thing about a man? they gone embarrass you. pic.twitter.com/rFQEYZZjQ7

— Lethal Homo (@LordeCali) July 6, 2023
The moment Keke Palmers bd started gettin in his feelings 😭 pic.twitter.com/GMBWGEynBV

— CoCo (@nicoleroams) July 6, 2023
Men have no clue what it's like to have a baby and not even feel comfortable in their own body anymore. For Keke to bounce back, look that good & still pay all the bills you gotta shut all the way the f*** up.

— Kami (@lekurokami) July 6, 2023
saying "wife" when her ring finger is vacant … saying "man of the family" when we refer to you as keke palmer's baby daddy https://t.co/nLD9NcDfdW pic.twitter.com/VT3esl4e72

— luffy's m/n⁷ ᵇʸ ʲᵏ (@mainrapline) July 5, 2023