Mbuyiseni Ndlozi Reacts To Actress Mmabatho Montsho Being Reduced To Just 'His Wife'. A twitter account sharing pics of the actress and film producer has been met with anger by her husband and has caused a furore amongst tweeps, with its caption suggesting she's Ndlozi's partner.
Mmabatho Montsho was invited by magazine Nounouche —a digital lifestyle magazine to interview fellow industry colleague, actor Zolisa Xaluva. He also graced the the April cover of the magazine. As such, Mmabatho was photographed along with Xaluva for the magazine. A media outlet's twitter account posting pictures of her taken at the interview, with the caption reading: "Mbuyiseni Ndlozi's wife, Mmabatho Montsho leaves her fans astonished with recent pictures."
The post has since caused social media upheaval, her own husband, Mbuyiseni is one of the many tweeps to hit back at the distastefulness of the caption saying, "Disgusting t**le… bloody misogynists. Ngxa!".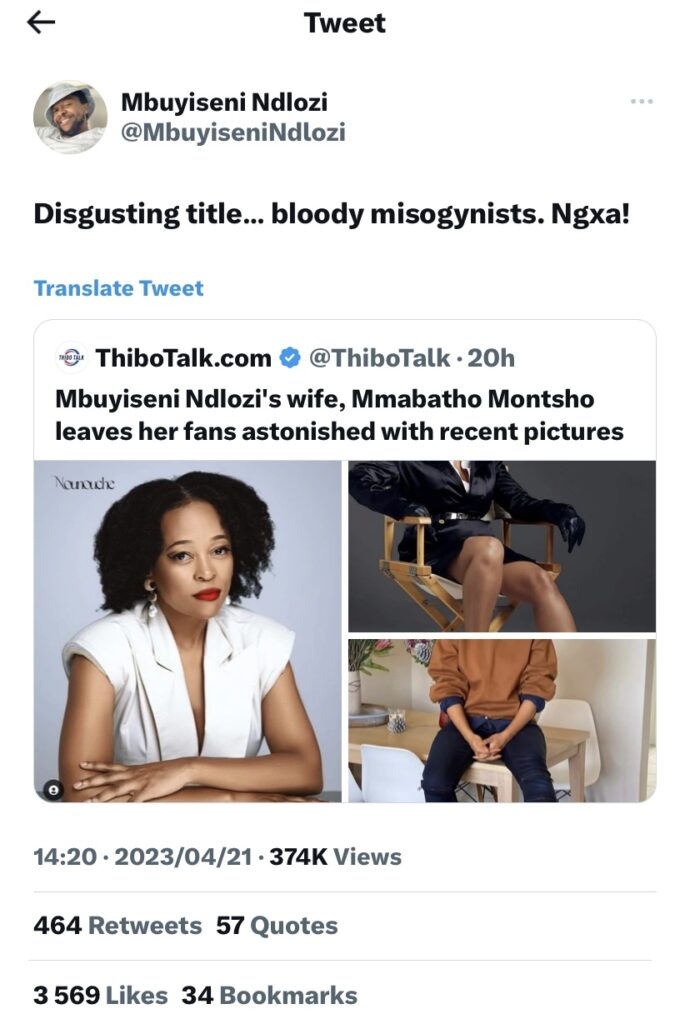 Being a well known actress and director, Mmabatho has starred as in television productions such as Rhythm City, Generations, Lockdown and many more. Ndlozi has not been the only one to express his outrage and disappointment, journalist and radio host, Redi Thlabi has also opined that Mmbatho's aforementioned achievements should have been the ones referenced as the caption had eroded her accomplishments and hard work.
"No woman is ever defined by the man to whom she is married, especially when referencing her work! Many actually knew Mmabatho, the artist, long before she married DR Ndlozi. YES, I AM SHOUTING!" she expressed angrily.
A mob of tweeps have also joined into the pushback of the twitter account's caption being s**iest and misogynistic, with some saying that some media contents online made men to feel dominative and that was a problem. Others went on to express that a sense of an individual's identity is important to be attached to women as it is important to develop a woman's autonomy and agency.
Check out the tweets below: